Description
Main Parts
Components
WUXI ABK provides submerged arc welding machine used for vertical cylinder construction. Different from the current market, our MSHW series automatic girth welder is equipped with a stable dual drive system. The self-propelled submerged arc welding system can help reduce the constructions time to 25% of the manual welding. The transverse welding machine is used for welding the inner and outer ring of the vertical cylinder. We offer automatic girth welders with 3 configurations for various types of tanks.
A. Operator Platform

Description
Its main frame is composed of transverse welding operation unit and welded steel structure.
Applicable for "bottom up" tank erection
Min. dia.: 5.0m
Shell plate : 1.5m~2.5m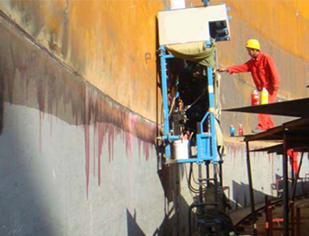 B. Dual Drive Unit
AC double drive design allows this submerged arc welding machine to make a full circle around the tank and weld all the defects and flaws while it's moving. This dual drive system is more stable and easier to use compared to single drive system, and it's more efficient in repairing defects.

Programmable variable frequency drive

C. Power Source and Wire Feeder
Description
The welding system is equipped with LINCOLN NA-3 control and wire feeder, as well as the corresponding wire spool and wire reels. It accommodates coils of submerged arc welding wires below 27.2kg.
Power Source
LINCOLN DC600
United States NA-3S control box
United States NA-3 wire feeder

D. Controller
AGW control system is a comprehensive control box that controls the operation of automatic girth welder. It can control flux recovery vacuum pump, 220V socket switch, auxiliary power, etc. The control box consists of the required digital display, knobs, switches, indicator lights and emergency stop buttons, etc.

E. Flux Recovery System
Capacity: 60kg

Flux Support System

F. Cable

| | |
| --- | --- |
| Welding Cable | 120mm² × 60m |
| Control Cable | 10p × 2.5mm² × 60m |
| Power Cable | 3p × 4mm² × 60m |
| Grounding Cable | 120mm² × 5m |
G. Cabinet
H. Type of Groove
Thickness ≤14mm
Thickness>14mm

No.
Components
Manufacturer
Quantity
Remark
1
Main Machine
NA-3 wire feeder
USA LINCOLN
1set
Imported
Wire reel and wire spool
Torch and angle trimmer
Wire straightener
2
Operation Box and Control Panel
NA-3 control
1set
Imported
Control box for rack travel (control panel included)
WUXI ABK
1set
China
3
Power Source
LINCOLN DC600
USA LINCOLN
1set
Imported
4
Travel Carriage
AC motor (2 sets)
WUXI ABK
1set
China
Cross beam
Drive wheel assembly (2 sets)
Aluminum / wind-shielding welding frame
Operator platform
Travel carriage frame and its adjusting mechanism (2 sets)
5
Torch Adjusting Device
Adjusting mechanism of torch
1set
6
Automatic Flux Recirculating System
Flux support system assembly
Flux support belt tightening device
Flux transport and recovery kit
Flux supply container
Vacuum pump
7
Auxiliary System
Control panel of power distribution system
WUXI ABK
1set
Explosion-proof lighting lamp
8
Cable assembly
Control cable (120mm2 × 60m × 1)
High-quality outlet cable for tank welding machine
1set
Control cable (10p × 1.5 mm2 × 60m × 1)
Power cable (3p × 4mm2 × 60m × 1)
Grounding cable (120mm2 × 5m × 1)
9
Power Supply and Cable Storage Box
Rack and power supply distribution control cabinet
WUXI ABK
1set
Rainproof
Welding power source and cable storage cabinet
10
Tools
Tool kit and tool sets
1set
China