Company Introduction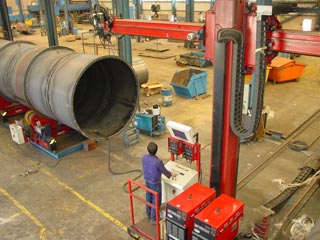 Established in 1999, Wuxi ABK Machinery Co.Ltd. is a professional manufacturer of welding equipment and CNC cutting machines in China. Our main products include: welding manipulator, welding positioner, welding rotator, welding turntable, laser cutting machine, cnc flame cutter, cnc plasma cutter, CNC table cutter, H beam production line and wind tower welding line.
Quality and Cost Control
With the pursuit for high quality, we have been strictly abiding by the ISO9001 standards and CE Certificates, and we turn to mass production to reduce our products' costs. Besides, a good friendship with the shipping company can ensure us a reasonable and relatively lower transportation cost. As a result, we can surely offer to you high-quality and low-priced equipments.
Application
Contact US
Wuxi ABK Machinery Co.Ltd.
Hotline:
+86-13815101750
Email:
sales@weldc.com
Add:
Luoshe Town, Wuxi City, Jiangsu, China